Welcome to the sport where you play table tennis, badminton, squash and tennis versus the same oponent. If you wish to become a member och get more info - contact Björn at 0709-18 50 00 or bjorn@stolt.se. Today we have 85 members and our PlusGirokonto is 67 20 76-7. You can also find us at Facebook.
Latest news
2018-11-03
Tonight Saturday tournamnet no 52 was played. Congrats to all winners. Some matches also were includd at our ladder.

2017-07-07
Three players from ERK are In Latvia thie week end. Follwo their results bellow:

Sebastian Hedlund - Men A
Bengt Sonnert - Men A
Thomas Olsson - Men C & Men doubles B

2017-05-14
The Swedish Championship gave nine medals for Enskede:

Men A: Gold to Stefan Adamsson
Men C: Gold to Tobias Myhre
Men 45+: Gold to Mikael Jonsson

Women A: Silver to Therese Malmberg
Men Doubles B: Silver to Tobias Myhre & Pontus Olofsson
Women Doubles: Silver to Therese Malmberg
Mixed: Silver to Therese Malmberg
Men Doubles A: Bronze to Sebastian Hedlund & Bengt Sonnert
Men Doubles B: Bronze to Daniel Kommes & Stefan Nilsson
2017-05-13
Tonight Saturday tournamnet no 42 was played. The results are here and congrats to the winners Daniel Andersson, Nicolas Ekman and Alexander Jäätmaa. The ERK ladder is updated.

Dates for coming tournaments are here.


2017-02-24
Seven ERK players were in Malmö for the Swedish Open:

Hubert Fromlet - Seniors 65+
Sebastian Hedlund - Men A
René Lindberg - Men B & Men doubles
Gunnar Ljung - Seniors 60+ & Senior doubles 55+
Stefan Nilsson - Men B & Men doubles
Erik Pettersson - Men B & Men doubles
Leo Östborg - Men C

Club Championship 2016
Class A - Alexander Ebata
Class B - Christian Tall
Class C - Daniel Bjerner

Swedis Championship 2016
The tournament was played at Enskede for the third year in a row. We had 11 classes and totally 234 matches.
Men A Winner: Stefan Adamsson Enskede RK
Men B Winner: Joakim Hellgren Västerås
Men C Winner: Anders Svanberg Stockholm
Men D Winner: Nicolas Ekman Enskede RK

Women A Winner: Anna-Klara Ahlmer Enskede RK

Seniors 45+ Winner: Anders Rickan Enskede RK
Seniors 60+ Winner: Claes Hellgren Stockholm

Men doubles A Winner: Mikael Rehn Linköping & Emil Gunnarsson Lund
Men doubles B Winner: Johan Porsborn Stockholm & René Lindberg Enskede RK
Women doubles Winner: Anneli Druve Göteborg & Lilian Druve Göteborg
Mixed doubles Winner: Lilian Druve Göteborg & Daniel Majetic Göteborg


2016-05-13 - Table tennis with Mikael "Äpplet" Apelgren
Amasing coaching from one of the best table tennis playes ever in Sweden.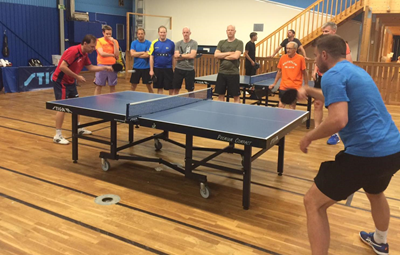 2015-11-28
34 persons from ERK played the very first European Championship in Prague.
ERK won gold in Men 40+ by Anders Söderlund.
Silver to Mie Kjellser in Women 40+.
Silver to Anders Rickan in Seniors 45+.
Silver in Men for Markus Hagstrand.
Big 5
Our World Champion 2012 Stefan Adamsson played versus one former top player in each sport. See the results below.
Racketlon med the BIG 5 from Enskede Rackethall on Vimeo.
Racketlon med Stefan Adamsson (racketlon), Mikael Appelgren (bordtennis), Joakim Fellenius (badminton), Christian Drakenberg (squash) och Jonas Björkman (tennis). I Enskede Rackethall 2014 05 21.
​
Stefan Adamsson- Mikael "Äpplet" Appelgren
5-21

Stefan Adamsson - Joacim Fellenius
13-21

Stefan Adamsson - Christian Drakenberg
2-21

Stefan Adamsson - Jonas Björkman
10-21

Total
30-84
World Championship Stockholm 2012
As many as 489 persons from 26 countires came to Enskede 2012. The Men title stayed at ERK and Stefan Adamsson. Click at the first picture to see a movie from the tournament. Click on the second picture to see the LIVE TV broadcast from TV4 of the final.
​